Welcome to The Sandpiper Inn, Abaco
Timeless Bahamas……Traditional Schooner Bay Harbour Village…. Abaco Out Island Lifestyle….Pristine Environment….Unique Destination……..
Real Place…..Unplug and Reconnect…..All Found Today….Bahamian Eco Experience….
A traditional Bahamian Inn located on the waterfront in Schooner Bay Village, South Abaco.
The Sandpiper Inn features 7 beautifully designed and decorated suites and cottages, and a full-service restaurant & bar. The social center of a village on the water, a place to gather and enjoy authentic island life. Ocean, harbour, dune and forest views from every angle. The ideal spot for access to all The Abacos have to offer – By land or sea.
A real place to getaway to with family & friends to enjoy wholesome experiences and create rich memories. The Bahamas at its Best. The Sandpiper maybe not for everyone, which is what makes us special. Come to Schooner Bay and learn the secret of The Sandpiper Inn.
Uniquely Designed
Designed by renowned Urbanist architect, Bill Harris of Allison Ramsey Design in South Carolina, in part inspired by the lovely architectural patterns one sees in both Harbour Island, Bahamas and Charleston, South Carolina. The Sandpiper Inn is a lovely two-and-half storey traditional Bahamian verandah house with wrap verandahs on two levels and an attic floor dormer porch, all accompanied by two tidy duplex cottages at the rear.
The force and passion behind The Sandpiper Inn at Schooner Bay is not a brand, but a principle of place, people and genuine service that shares real experiences to an enlightened valued few.
We are inspired by the lovely harbourside inns found in the loved villages of the Out Islands and the experiences they afford. We believe the world needs places like The Sandpiper Inn & Schooner Bay Village – for a vacation or for a lifetime – your choice. Why vacation in branded programmed places that are devoid of authenticity or real emotion, where we know neither the origin of our food nor the source of our water? At The Sandpiper Inn, Schooner Bay the experience is real. The people are genuine. The location is of perfect balance.
The Village
Only 75 minute flight from Florida's east coast and 30 minute flight from Nassau, on Great Abaco Island in The Bahamas, a traditional community, a destination, a real place has been born. A tidy harbour village of Bahamian cottages surrounded by both the sea and the Little Bahama banks – with narrow streets, sweeping beaches, rugged dunes, a tropical hardwood forest, where fishing boats rock idly on their moorings and the lively bustle of early evening; parrots call from the forest and neighbors mingle in the streets. Capture all that is essential and nothing that is not.
All accommodations at The Sandpiper Inn feature large ceiling fans, Geo Thermal A/C system, Wi-Fi, and travertine tiled guest and bathroom floors. Additionally, each suite features tray ceilings, his & hers closets, 3-headed shower, double vanities and a large soaker tub. To help you completely unplug and reconnect, our accommodations are also TV-free
The Sandpiper Inn offers Two Lovely Town Cottages. Each cottage has two individual rooms with main level access to the Inn's plunge pool and restaurant. Each room features either One King Bed or Two Double Beds.
On the 2nd floor of the Inn are Two Oversized King-Bedded Master Suites with access from the outside via the large wrap verandah. With over 350 square feet of living space, these suites are spacious and offer both privacy and amazing views of the harbour, the island, village, forest and ocean. Enjoy his & hers closets, 3-headed shower, double vanities and a large soaker tub.
On uppermost floor of the Inn, is the exclusive Hibiscus Suite, whose namesake is the owner's mother who always wore a Hibiscus flower in her hair. This King-Bedded Suite is ideal for a couple seeking privacy or a family of four wanting to be together. With over 500 square feet of living space, including two sitting areas. This suite is spacious and offers amazing panorama views of the harbour, the island, village, forest and ocean from your private balcony.
Dinner

is served only Thursday through Sunday. Reservations are required 6:30 to 9pm.

Breakfast :

Daily 8 -10am

Lunch :

Daily 12:30 -3pm
The Sandpiper Inn restaurant has been designed and developed in collaboration with two internationally accomplished chefs both of whom know The Bahamas well. Open to the public. No trendy cuisine, no fusion, nothing over done or stuffy- just good food. Our cuisine is simple, local, fresh, well-seasoned, and perfectly-prepared. In South Abaco, we have the benefit of fresh seafood nearly year-round, complimented by the lovely local and organic produce from Driftwood Farms.
The Sandpiper Inn restaurant offers a European style deluxe continental breakfast complimented by made to order traditional hot items and of course a daily Bahamian favorite such as boil fish, chicken souse, stew conch or "fire engine". Lunches are fresh, simple and satisfying with an array of salads, deli sandwiches, grilled burgers and fresh fish sandwiches.
Opt for indoor air-conditioned comfort or dine al fresco on the wraparound verandah overlooking the plunge pool and harbour.
South Abaco offers a plethora of outdoor activities from beaching, to most water sports, to eco-adventures on land and sea, including the very popular bonefishing. With the nearby location of the Abaco National Park, popular activities include hiking, park picnics, exploring the park's caves, and swimming in the famous Sawmill Sink Blue Hole. On property, you will also have access to two yoga decks with water views, a nature trail, a furnished beach cabana, and kayaks. We can arrange as much as or as little as you care to do.
Chartered a boat, but need a Captain? Please contact us

Rental Golf Carts

– From $55 per day

Free Cruiser Bikes
Explore Abaco
Welcome to The Abacos. Calm waters, warm breezes and panoramic beauty make this chain of islands a boating and sailing paradise. But it's not just the sea that attracts travelers from around the world. Those who prefer to explore by land will find championship golf courses on Treasure Cay & Winding Bay, charming colonial towns on Green Turtle and Elbow Cays, and countless inns, hotels, restaurants and bars throughout The Abacos.
The Abacos are a group of islands and cays that form a 120-mile–long chain stretching over 650 square miles. British Loyalists left the United States after the American Revolution ended to establish homesteads in The Abacos. The Loyalist heritage remains strong and their presence is still noticeable today in the colonial style homes of Hope Town and New Plymouth. The coastlines are scalloped with bays, coves and protected harbors that feature full-service marinas and resorts. Great Abaco Island and Little Abaco serve as the "mainland." Marsh Harbour has a lively downtown area with all city amenities. Treasure Cay boasts miles of pristine beaches, including one of the top 10 beaches in the world. Elbow Cay and Green Turtle Cay are old English loyalist settlements, where you'll find beautifully preserved colonial architecture with a touch of Bahamian pastels, of course. And Guana Cay is famous for Sunday barbecues atop the island's tall sand dune, which overlooks a magnificent 7-mile–long beach. Schooner Bay is located at the "neck" of south Abaco serving as the gateway to 100,000 square acres of pristine and undeveloped outdoor playground.
Bonefishing Half and Full Day
Looking for some excitement as part of your vacation at Sandpiper Inn? We've got you covered! Enjoy a day out on the water bonefishing with a professional and licensed local guide.
Full day trip 8am – 4pm

– $500

Half day trip 8am – 1pm

– $400
Rates above are based on 2 people

Extra person in boat

– $100
If angler needs a fishing license or gear, these can be provided at no additional cost.
We strongly recommend that anglers arrive with light-colored long pants suitable for wear above and in the water, light colored long-sleeve and short-sleeve flats shirts, flats boots for wading, a long billed hat, polarized sunglasses, and plenty of sunscreen.
Sandpiper guests can purchase a lunch add-on for $25 per person.
Call us today to book your adventure!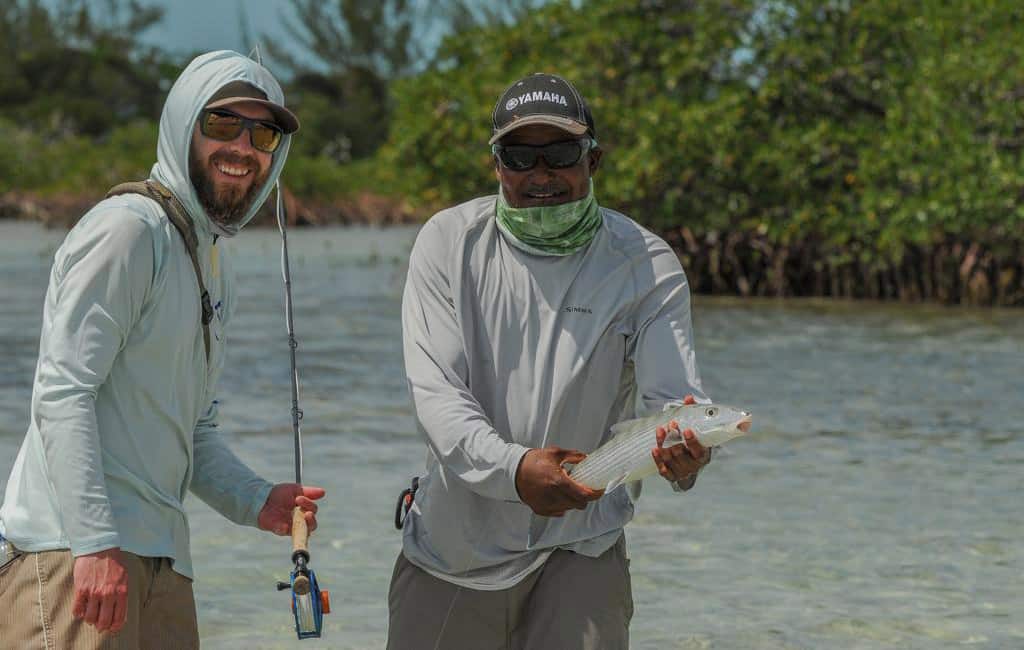 Excellent time – Thank you!
My 3rd trip booked – Hope there's 3 more
A true gem, Wonderful, peaceful setting and pleasant staff. We'll be back!
Good area for fishing and relaxing. Great accommodations and staff.
Everything you guys are doing here is great! A little taste of quiet of what you have created. Your hospitality makes me happy. Thank you.
Thank you to the entire staff here! You all went out of your way every day to make sure we were comfortable and taken care of. This was definitely the best lodging experience I've had in the Bahamas!
Do I need to bring an electrical adapter?
All of our suites are equipped with standard North American outlets (Type A, sometimes Type B). If traveling with European, Asian, or non-North American appliances/devices, we recommend brining an adaptor.
Are kids allowed at The Sandpiper Inn?
Our Inn welcomes guests of all ages.
What credit cards does the Inn accept?
We proudly accept Visa, Master Card, and American Express.
Do you offer all-inclusive rates?
Yes, all-inclusive rates are offered. Please feel free to contact us at 242-699-2056 or 242-577-4656 or info@sandpiperabaco.com for more details.
Is a credit card required at check-in?
Yes. A pre-authorized HOLD will be applied as a deposit. Please consult with our Front Desk staff for specific details.
Is pre-arrival check-in available?
No, we do not currently offer pre-arrival check-in.
Can we use our country's standard currency?
The currencies used within the Inn are Bahamian Dollar (BSD) and US Dollars (USD). USD are also accepted islandwide. Foreign exchange rates may vary and change on a daily basis, subject to availability.
Does the Inn have a hurricane policy?
Yes. Please contact the Inn for further details, hurricane policies are subject to change.
Does the Inn have a smoking policy?
The Sandpiper Inn is a non-smoking property. Smoking is prohibited within the confines of the building, however it is allowed beyond 10m from the property.
What is the tipping policy at the Inn?
All tips and gratuities are included. Additional gratuities are most welcome by our staff should services exceed your expectations.
All water at the Inn is from a reverse osmosis plant and safe to drink, however the Inn will provide filtered and bottled water at all times. Water and ice cubes served at the Inn are always filtered and safe to drink.
Does the Inn provide medical services or support?
Clinic services are available within a short distance from the Inn. Our Inn is located within a 35 minute drive to the nearest hospital. Please feel free to contact the Front Desk staff should you require assistance.
Are pets allowed at The Sandpiper Inn?
No, we do not accept pets.
Is there babysitting available? If so, is there a fee for babysitting?
Currently, babysitting is not offered, but special requests can be accommodated on a case-by-case basis. The standard rate is US$25 per hour per child and US$15.00 for each hour thereafter. The minimum age for babysitting is two (2) years old, and the maximum number of children per babysitter is two (2).
Address
The Sandpiper Inn & Cottages
P.O. Box AB 20016 Capt. Ernest A. Dean Highway Schooner Bay Village, South Abaco The Bahamas.
Phone
1-242-699-2056 | 1-242-577-4656
Getting to Schooner Bay
Schooner Bay by Air
Commercial Flights – International & Domestic
Marsh Harbour International Airport (MHH) is a 30-minute drive from Schooner Bay. Current facilities can accommodate regional jets, and a new state-of-the-art terminal opened in June 2014. We would be happy to arrange your transportation between MHH and The Inn. Please contact us directly.
Schooner Bay by Sea
Schooner Bay offers a secure harbour basin ideally located along the traditional cruising route from the Abaco Cays to points south, with easy access to world-class blue-water.The harbour approach is straightforward and well-documented in 2013 cruising guides.
If you would like more information about the Inn or have questions about bookings, please send us a message through the form below.